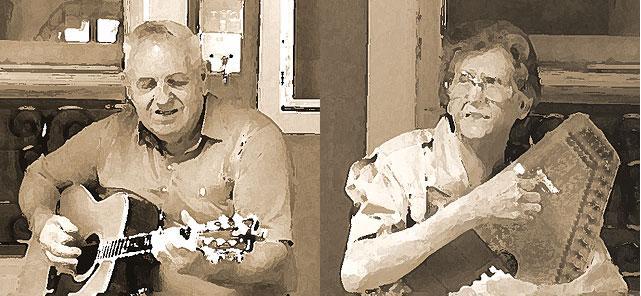 LYLE & DORIS MAYFIELD
Album Page
Youtube Page
Facebook Page
Green Field Records Blog-Release Information
The story of the Mayfield family music began in the middle thirties when Lyle's mom purchased him a 25-cent harmonica. She turned to the seven-year-old and said, "Learn to play it, son. I like French harp music."
Next came the acquisition of a six-dollar, used guitar. The friend he bought it from showed Lyle three chords. Eight months later the friend's band had a new guitar player.
In 1950, Doris Mindrup became Mrs. Mayfield. Less than a year later the couple were doing their own radio show on WSMI in Litchfield, Illinois, as the "Bond County Sweethearts." The title changed to the Mayfield Family as David, Lynda and Layne came on the scene. David made his debut on the show at the age of three months. He lay in an empty guitar case in the studio while mom and pop crooned. One day he decided to add a little harmony of his own. Lyle apologized to the listeners for the unexpected voice in the background. A listener wrote in saying, "Don't apologize. It's the best music on your show."
Over the years each of the children have performed with their folks at shows around the Midwest. Now, though, all the young birds have left the nest and the "sweethearts" are again doing their thing as a duet. Occasionally, youngest son Layne travels with them to help the folks as a vocalist, guitarist and bass player.
The Mayfields have appeared at hundreds of festivals, picnics, shows, church activities, benefits, square dances and plain old jam sessions. Some of the high spots include bookings at the Olde Towne School of Folk Music in Chicago, The Arkansas Folk Festival, The Lincoln Jamboree in Kentucky, Illinois State Fair, The 1976 Bi-Centennial Folk Festival in Washington and various other functions from Kansas City to Grand Rapids to St. Louis to Indianapolis to Battle Ground, Indiana.
Starting with their first 45rpm single in 1964, the Mayfields have recorded two singles, one LP and more than 40 cassette albums. They have also contributed to several other albums for various folk music groups around the country. In 1964, they cut five bands on an album of folk music produced by the Campus Folksong Club at the University of Illinois. It was titled "Green Fields of Illinois." From this Lyle came up with the inspiration for the song "Green Fields of Illinois." It is now their theme song and is the title piece for their LP "Green Fields Re-Visited."
From a repertoire of songs numbering in the thousands, the Mayfields bring a family type program ranging from folksongs to popular tunes of the 30s and 40s to classic country to down home gospel. They supplement this with many of their own original compositions. They own and play a variety of instruments, several of which Lyle designed and built. At last count, they had more than 100 instruments in their home.